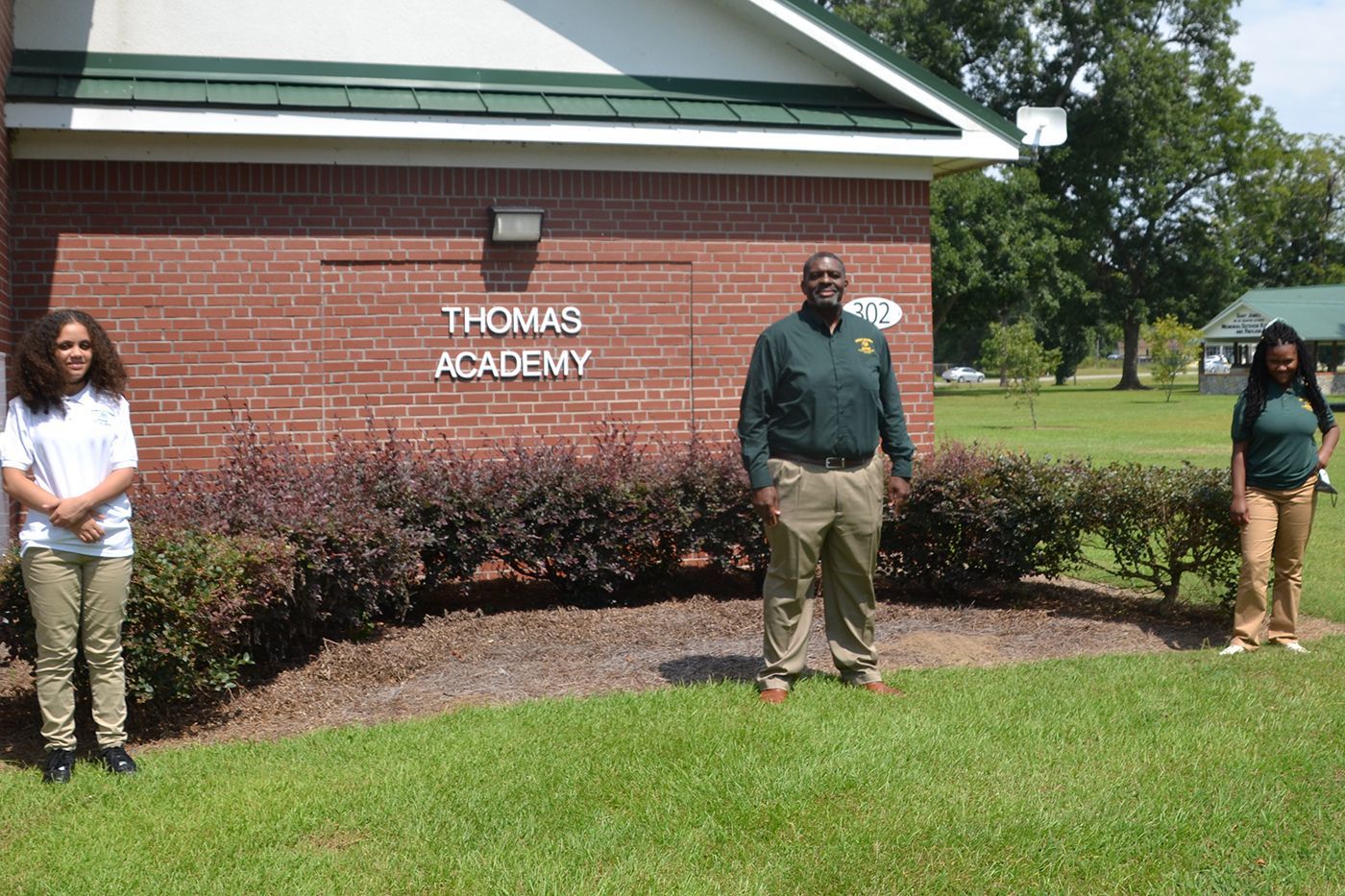 Lake Waccamaw, NC – On Aug. 19, participants in Thomas Academy's Strategic Optimization of Academics and Recreation, or S.O.A.R., summer program were recognized in a short ceremony held in the Leamon Rogers Memorial Chapel.
"This is a day to celebrate all the great accomplishments that have gone on throughout these nine weeks," said Principal George Ward. "We want to take some time to recognize a lot of students for their hard work and it's been a lot of work. It's been fun, but they've been working very hard to make up for a lot of things that happened with school closures. It was a disjointed year and it was great for everybody to come and finish the work."
During the ceremony, students were honored for participation, perfect attendance, high school credit completion and college credit completion. The ceremony also included a performance by the Thomas Academy Choir and a reception provided by the culinary students.
Initially designed to be two three-week sessions, the program expanded to a third session based on the response.
"Our summer program provided targeted, individualized instruction in reading and math to better equip students for future success in school and to remain on track for graduation from high school," Ward said. "We support students in a strength-based approach that address students' unique learning styles, cultivates lifelong learning, and promotes character through quality enrichment opportunities.
"S.O.A.R. was designed to look different than what we do during 'regular' school," he continued. "However, it was still allowing students to learn and improve academically, socially and emotionally."
The summer program was funded through a 21st Century Community Learning Center grant, which provides federal funds to establish or expand community-learning centers that operate during out-of-school hours with specific purposes. First among these purposes is to provide opportunities for academic enrichment to help students meet state standards in core academic subjects, especially in high poverty areas.
"This summer Thomas Academy strived to meet the needs of 82 students," said S.O.A.R. Coordinator Buddy Kennedy. "Some students participated the entire summer. Some students only came for a few days. But all students have had a positive experience and have enjoyed learning without the pressure of grades."
According to Kennedy, student participants completed 32 courses with 21 students completing work to get them back on pace or at grade level. There was a total of 10 credits recovered by students over the nine weeks.
"In addition, three students earned a combined total of 12 hours of college credit from Southeastern Community College this summer," Kennedy said. "We also partnered with SCC to send three students to participate in their Pre-Apprenticeship Program. This program lasted 10 weeks and students earned certifications, which prepared them for employment in the manufacturing industry while earning essential credentials to succeed. In addition, these three students were also offered paid internships at local companies to learn all these skills on the job."
True to the intentions set at the beginning of the program, the offerings moved beyond the academic classroom as each day included three enrichment class periods.
"We offered a lot of fun classes this summer such as gardening, community service, greenhouse care, business etiquette, culinary arts, gym, weightlifting, Fit Bod, recreational therapy, acrylic art, music, broadcasting, horseback riding, social emotional learning, and anime," Kennedy said. "Students were exposed to many new learning experiences through field trips. We visited the NC Battleship, discovered downtown Wilmington and the Riverfront Walk, Ten Pin Alley bowling, NC Zoo, Ripley's Believe It or Not Aquarium, and a fun filled day at Carowinds in Charlotte. We also spent three great Fridays having fun right on our campus with cookouts, water slides, basketball games, corn hole, baseball and dodgeball."
Ward made a point of celebrating the accomplishments of the program beyond the classroom through weekly updates to parents.
"We created our own Thomas Academy kitchen for our culinary class," Ward said. "You should have seen the students' excitement and interest in cooking. These students would later make dinner for the etiquette class to put their skills to the test."
Other special accomplishments highlighted included:
A student was assisted and inspired by peers after having difficulty making it up to our water slide.
A student spent time watering and talking kindly to plants.
Another student helped harvest vegetables that Boys and Girls Homes of North Carolina staff sold at the Country Store and at the BGHNC Produce Stand.
Students taking college classes during the summer have an average grade of 92%.
A version of S.O.A.R. will be the basis of the afterschool program at Thomas Academy beginning soon after the first day of classes on Sept. 7.
"Our school is different, different in a good way," Ward said. "Our school is designed to meet the needs of students who benefit from a more personalized learning environment. We are a small school, and we intend to stay small because we believe that a small school helps us know your child.
"We are committed to meeting the whole child's needs and helping students face some of the barriers that may have interfered with their access to a meaningful education and academic success."
About Thomas Academy
Thomas Academy is a North Carolina Public Charter School that educates middle and high school students. Located in Lake Waccamaw, the academy provides a tailored academic experience to students who are oftentimes in need of a more specialized, integrated curriculum. Thomas Academy was founded on personalization in education, unique offerings and educating through purposeful design. Enrollment is open to any student in grades six through 12. For more information, visit our website www.thomasacademync.org