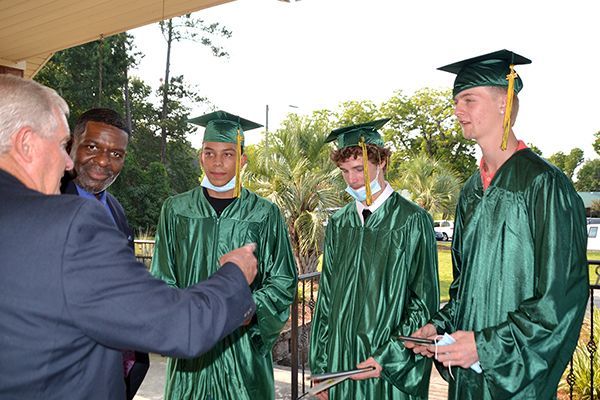 Lake Waccamaw, NC – On Friday evening, July 23, family and friends of the four Thomas Academy summer graduates gathered for the Summer Commencement Ceremony at the Leamon Rogers Memorial Chapel on the Boys and Girls Homes campus.
"I think one of the great things about Thomas Academy is that we really try to show that every student matters and this is an example of it," said Principal George Ward. "We want to recognize every student for their hard work. Each of these student's school story could be a made for TV movie and finishing high school is a great day to celebrate. We definitely wanted to take the time to honor each journey."
As part of the ceremony, a Thomas Academy tradition continued as each student was recognized by one of the staff members to commemorate their individual high school experience.
Sherry Kennedy provided her reflections on graduate Kyle Lewis.
"Adversity and resilience," she said. "The definition of adversity is a state or condition of serious or continued difficulties. Imagine your greatest adversity – the challenge, the effort, the moment you wondered am I going to make it? Resilience is that which carries us through. When I think about adversity and I think about what defines resilience, I think about Kyle. He felt like giving up. He didn't see the point. Then he thought it does matter, I won't give up. After working hard all summer, there he is, on the front row in his cap and gown."
In speaking about graduate Malik McInnis, Harrington Ward posed a question to those in attendance.
"What distinguishes a great man from an extraordinary man or a victor from a victim?" he asked. "He knows how to get back up after life throws him a curve. He was able to get back up and finish. Malik is the epitome of determination and consistency."
Although a scheduling conflict prevented his attendance at the ceremony, Jonathan Crawley shared his thoughts on graduate Riley Price.
"Riley is greatly determined, headstrong, full of conviction, some might say stubborn," Crawley wrote. "Riley underestimates himself. He is often much more capable than he thought he was. The future looks bright for Riley because he has learned that we all need help some times and that asking doesn't make us look weak."
Graduate Dylan Sutcliff asked Tara Haynes to speak on his behalf.
"I watched Dylan work hard to accomplish his goals, even though it may have taken him a little longer than he wanted it to," Haynes said. "I challenge you Dylan as you complete your high school journey to always remember that with hard work and perseverance you can achieve any goal that you set in life."
Principal George Ward provided some additional words of encouragement after presenting the graduate's with their diplomas.
"We encourage you that this is not the end, but the beginning of your journey," he said. "There's a lot more education to get. A lot more things to learn and this will be a good example of what you can accomplish when you put your mind and heart to it. Congratulations to you all."
About Thomas Academy
Thomas Academy is a North Carolina Public Charter School that educates middle and high school students. Located in Lake Waccamaw, the academy provides a tailored academic experience to students who are oftentimes in need of a more specialized, integrated curriculum. Thomas Academy was founded on personalization in education, unique offerings and educating through purposeful design. Enrollment is open to any student in grades six through 12.